I was really excited to welcome Ferra to my group of K9 hikers today. She fit right in as if she's been hiking with us for months! Ferra is a Pharaoh Hound mix and has a sweet, lovely temperment.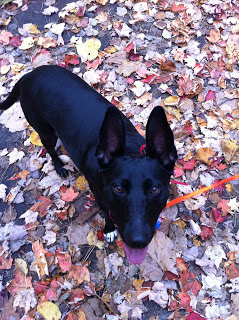 Ferra
My adventure with Ferra began several weeks ago when I met with her owner, Megan, to work on Ferra's recall as all dogs that join my groups must have excellent recall. I provide consulting/training services to people who would like their dogs to join my hiking groups, but have dogs that need some work on their recall. After a good, productive session working with Ferra and Megan, I left them to work on Ferra's recall together for a few weeks. Wow, they did a great job! Ferra has come a long way and her recall was 100% today! Way to go Megan and Ferra!
Beautiful Day for a Hike with Great Dogs!
I limited the dogs on Ferra's first hike to just her and Stanley to give me the opportunity to assess her recall, her response to me and behaviour with other dogs. Every dog that joins my groups must be thoroughly tested before joining the entire group because the safety of all dogs in my care is my first and foremost priority. Dogs are appropriately matched for fun and safety, recall is continuously reinforced and training on recall and manners is an ongoing activity for the duration of a dog's involvement with me. Stanley does a really good job of helping me with our assessments because he acts as a good role model and he is well socialized and behaves nicely with other dogs.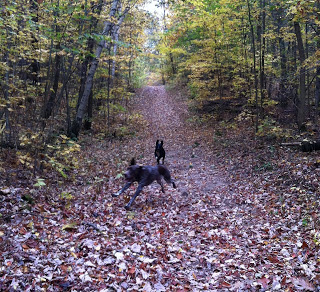 The Chase is On!!
We were a few minutes into the hike and Ferra initiated a game of chase with Stanley. She certainly knows the way to his heart, chase is his favourite game! They ran through the woods, trading chaser/chasee roles back and forth, occassionally stopping for some wrestling action. They played hard, but appropriately. They both took each other's cues to back off, but they also both came back for more! Ferra passed the "behaviour with other dogs" portion of her assessment with flying colours!
Having spent some of their energy, we stopped for a time out and a snack. They both sat nicely and patiently waiting for treats and water. Ferra showed intense focus when I asked her to sit or return to me. Perfect! Exactly what I'm looking for when assessing a dog's response to me and my rules.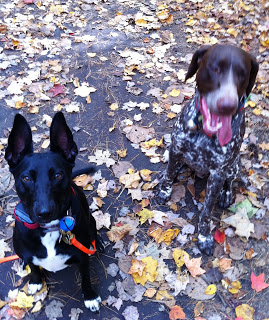 Waiting Patiently for Treats!
It was a lovely day, an amazing hike and it once again reminded my of why I love my job. Ferra has improved a great deal and she and Megan are doing an amazing job with her recall and manners. It makes me feel good to have made a difference for them, and that is what makes my job so perfect.