I am pleased to welcome Anesh to K9 Expeditions' team!
Anesh, Stanley and Eloise on the Trail
Anesh has always loved and owned dogs. He grew up in Scarborough with his beloved German Shepherd Bruce, and is currently the proud owner of Moxie, a sweet and very goofy Beagle.
Passionate about health, fitness and dogs, Anesh is a perfect fit as a Hiking Leader at K9 Expedtions. He has always had an interest in working with dogs and enjoys hiking, working and "playing" with them on the trail! When he's not hiking with K9 Expeditions' dogs, he trains as a member of the Canadian Track and Field team and competes in cross country racing events. Anesh's goal is to compete in the 2015 PanAm Games and we at K9 Expeditions are going to support him in reaching his goal!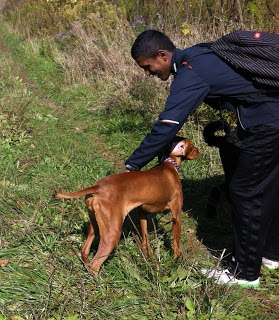 Cade getting some snuggles from Anesh
Welcome aboard Anesh!! Happy hiking!!