This blog post is not a "Tail from the Trail", however, it is a subject important and dear to my heart: Rescue. Specifically, Pointing Dog Rescue Canada (PDRC). This blog post is not only about spreading the word about PDRC, but also about providing ideas on how to support PDRC or other local rescue organizations.
While I have chosen to purchase several of my dogs from reputable breeders so that I have an understanding of the lines my dogs have been bred from, I have made a commitment to support the rescue of homeless dogs in need. These two actions on my part seem in contrast to one another and indeed, I was quite conflicted several years ago because I thought that the only way I could support rescue was by actually adopting dogs. I came to realize that there are many ways to support rescue so I began looking for a German Shorthaired Pointer rescue organization in my area to volunteer with and I was surprised to find that there was no such official organization. Of course there were several people from the German Shorthaired Pointer Club of Canada (GSPCC) who were working diligently to support and promote the rescue of unwanted dogs, but not under the umbrella of a rescue-specific organization, able to build a stable network of volunteers and registered as a charity so that a solid network of financial supporters could be built as well.
A little over 18 months ago, I got together with three amazing women, Maria Foster, Maxine Moinier and Heather Brennan. Together we formed Pointing Dog Rescue Canada. We have since increased our board to include another dedicated woman, Cynthia Walker. We are currently incorporated and hope to gain Registered Charitable Status very soon. In our first year and a half, we have rescued a number of dogs and I have personally fostered several of them. We rescue all pointing breeds as recognized by the Canadian Kennel Club, as well as mixes of those breeds as they do not fall into any purebred category and therefore no parent breed club is available to help out.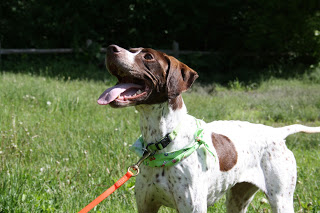 Missy was found rummaging through someone's garbage, severely underweight,
undernourished and full of parasites.
We nursed her back to health and she is now thriving with her new family.
How Can You Help? Here Are Some Ideas:
Adopt a dog in need. This is the most obvious way one can help. In the United States there are approximately five to seven million companion animals that enter the shelter system annually. (www.aspca.org) This does not account for companion animals that enter rescue organizations to be fostered and placed. In Canada, the statistics are less clear, but according to the Canadian Federation of Humane Societies, approximately 150,000 dogs and cats were admitted into a Humane Society or SPCA in 2010 and 36% of these animals were euthanized. (http://cfhs.ca) Again, this does not account for animals in rescue organizations or strays that never make it into a shelter or rescue. If you love a specific breed, contact your local breed-specific rescue organization, such as PDRC, to determine what dogs are available and fill out a rescue application.
Donate. It costs PDRC money to rescue dogs and we could not exist without the generosity of our donors. Veterinary care including vaccinations, heartworm testing, spay/neuter surgeries and other medical requirements as well as food and other basic care costs can add up very quickly. In order to continue rescuing, our volunteers must be reimbursed for these costs and PDRC relies on both donations and adoption fees to cover these costs. We will achieve our Charitable Registration Status very soon so that we can provide tax receipts to donors.
Foster a dog. Most if not all rescue organizations are 100% volunteer driven and would not be able to rescue as many dogs as they do without the help of foster homes. PDRC is fortunate to have a few dedicated volunteers who provide foster homes for dogs while we work to make a perfect match between dogs and their new families. We are continuously working to build our network of volunteer foster homes as they are such a critical part of the process of placing homeless dogs.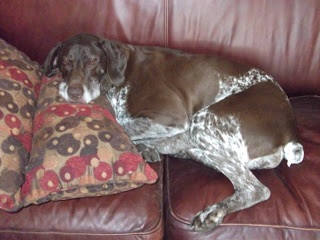 Ginger was surrendered by a family who crated her for most of her six years of life, in fact she did not even know how to go up and down stairs! They decided they did not have time to care for her after they purchased a new Boxer puppy. She was severely over weight and under the loving care of her foster mom, she thrived. She went to her forever home at a healthy weight and with lots of new social skills.
Donate Special Skills. Do you have special skills that could help PDRC or your local rescue organization? Please consider volunteering your time and skills. Special skills might include accounting/book keeping/financial skills, administrative skills, social media knowledge, technical skills such as computer programming, access to printing or other such services at low or no cost, event coordination, fundraising and more.
Transport. PDRC rescues dogs throughout Canada. With 9,093,507 square kilometres of land and a distance of over 7,500 KM from the east coast to the west coast, it is not surprising that PDRC relies on volunteers to help transport dogs. Sometimes it is possible for one person to do an entire transport from the point of origin to destination, and sometimes it requires a string of volunteers who meet each other along the route.
Conduct Home Checks. Before a dog is placed in a foster or permanent home, a volunteer must enter that home and thoroughly assess both the family and the physical environment to ensure the appropriateness for the specific dog in question. A significant amount of time and appropriate people skills are required to successfully conduct home checks. PDRC is always looking for volunteers who are willing to conduct home checks for us. We train each volunteer accordingly.
Donate Gifts-In-Kind. Dog beds, crates, food, treats, leashes, collars and all of the gear that is required to properly care for dogs can be very expensive. PDRC appreciates gifts-in-kind from both individuals and corporations.
Host a Fundraising Event. Fundraising events can be a fun way to support your local rescue. The type of event is limited only by your imagination! Host a dinner party and ask friends to provide a donation in lieu of a hostess gift. Ask guests to your wedding or other such event to provide donations to PDRC or another rescue in lieu of gifts. Organize a special day at your office, such as bluejean Friday and ask participants to donate. These are just a few ideas.
Dog Sit/Exercise Dogs. From time to time, foster families need a little help with dog sitting or exercising the dogs in their care. This may come about because the foster family will be away for a few days or have appointments one day that might interrupt their usual schedule. Having a volunteer dog sitter/walker come in on such occasions can be very helpful.
The rewarding feeling I get each time we place a wonderful dog with an equally wonderful family is a feeling that can only be described as gratitude. At times I am convinced that I am more grateful than the dogs we rescue!
Please consider how you can help PDRC or your local rescue organization. For more information on how you can contribute to PDRC, please contact us at
or you can reach me specifically at
. Follow us on Twitter
or visit us on Facebook at
http://www.facebook.com/PointingDogRescueCanada
and look for our new website that will be coming soon!